Scheduling events.
Time to Backup Manager application was created to manage scheduled events on local and remote servers. When connected to scheduler service you can manage add/edit/delete events like database backup, stored procedure run or SQL Script run.
Any event has the following general configuration settings:
Time to Launch - the time of the day when event starts.
Event Name - name of the event to display.
Server Name - address/name of the database server. Backup file compression is available only when this field is empty or "localhost".
Database Path - path to the database on your server. Do not include server name here !
User name/Password - user name and password that will be used to perform backup or connect to the database.
By default any event is scheduled for daily execution. If you want to run the event, for example, on each sunday click on Days tab and select day of week you want to run your event.
When any errors occured during event execution the server can send error notification by e-mail. Click on E-Mail tab and provide information about your mail server.
Database Backup.
Click on "Schedule database backup" button to open the following dialog: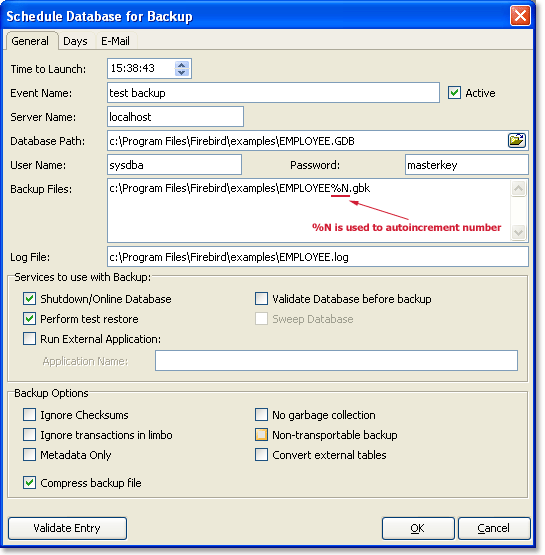 Backup files - one or more file to backup database to. To be able to distinguish backup files from various backup operations the backup file name and log filename can contain placeholders:
%E - Entry name
%D - current date in "yyyy-mm-dd" format
%T - current time in "hh-nn-ss" format
%W - day of week (1..7 where 1 means Sunday and 7 means Saturday)
%N - Autoincrement number
Log file - file to store backup log. Above mentioned placeholders can be used here too.
Services to use with Backup - lists additional actions to be done before/after database backup. The option "Run external application" can be used to setup file copying to another location or to upload it to FTP.
Backup options - standard set of options to backup database.
Compress backup file - extra option that instruct server to compress backup file.
Stored Procedure Run.
This event can be used to run particular stored procedure on regular basis. In addition to general configuration settings this event has only one more value - the name of the stored procedure.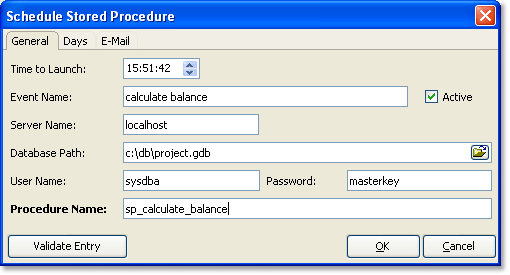 SQL Script run.
This event can be used to run SQL script on regular basis.