Creating New Project.
You may create new project by clicking the "New Project" on the welcome screen or selecting File-> New Project menu item. You will get following wizard dialog:

You have 4 options to move forward:
Create Local project - you will create a project that will be located on your computer and you are the one who needs to use it.
Create Shared project - you will create a project that should be available for your team. As far as project is a database you need to specify Interbase/Firebird server to put project on.
Register existing Shared project - the project is already created and you what to be able to work with it.
Import IBAdmin4.x project to a new local project - you will be asked for a file generated by IBAdmin 4.x. This file will be imported to a newly created project.
When creating a new local project you need to specify project file location. New Shared project requires a server name, protocol and file path on the server:

Both local and shared project have a project settings to fill:

Server version is a version of the Interbase/Firebird server you are going to use for the database. SQL Dialect and character set are for the same perpose.
One more option exists for verion control system. You could instruct Database Designer to perform automatic check out of the object when you start edit it and make "Check In" when you will save changes and close the editor. This makes version control seamlessly integrated and you have no need to do Check In/Out operations manually.
One more note should be made about project settings. To prevent project database overgrow it has a limit for number of versions stored for each object. By default this number is 10. To change this number open your project, click File menu and choose Project Options: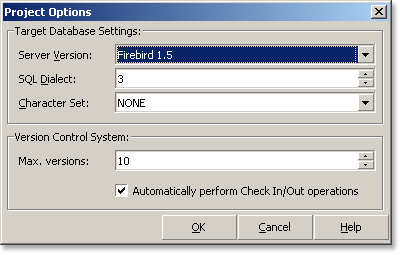 You could change target server settings here as well as turn off Automatic Check In/Check out.